Travertine stone provides a plethora of uses for the interior and exterior of the house. It is a limestone rock that due to the formation process has unique designs embedded in the rock. The quarries for this stone are found around hot springs or where volcanic action used to be. Due to the minerals found in the rock it comes in tan, cream, and white colors.  Travertine paving stones are a beautiful and decorative addition to any home project and it is a favorite building material in Italy.
Inside the home travertine tile has many functions. People use it on the floor in the foyer, entryway, or mud room. The stone is easily cleaned and durable. It is also used to line the walls of showers and baths. Its unique colors provide an aesthetically pleasing ambiance.
Around the home's exterior, travertine pavers function well as a patio or walkway stone. The natural color blends into the landscape. They also supply a sturdy, level garden path. The stones look exceptionally nice with crushed stones, river rock, or ground shells to fill in the gaps.
Prepare the pathway by marking the paths borders, and then excavate about five inches to provide a good base.  This is especially important in areas with frost. It's also important in areas with high rainfall and poor drainage. Fill the dugout area with a couple inches of gravel to assist with drainage. Then apply a little less than an inch of sand on top of the gravel, level it and pack it down.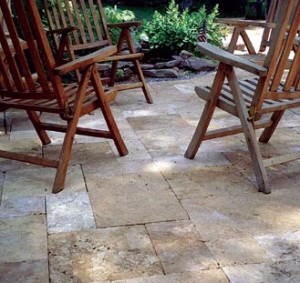 Now it's time to work on the paths visible portion. Apply the walkway's border along one side, and then layout the stepping stones. The pieces can be placed as close together as desired. Once all of the stones are set, install the second border.  If stones are close together fill the gaps with sand. If stones have large gaps, then fill with crushed shells, stones, or rounded river rock.
For the really industrious, the paving stones could be placed in concrete. However, this negates the ability to reuse the stones, or easily make future walkway changes.
Travertine pavers provide a durable and level walkway for enjoying the garden, pool, or picnic area. Their color and natural designs accent any outdoor area. Provide a designer path from the porch to the pool through the rose garden to the gazebo. Doesn't hurt to dream and plan.