Homeowners have options from which to choose when shopping for outdoor home lighting to install on the premises of their residence. While some shoppers initially focus on what the lights look like, another option to consider may be whether the lights are eco-friendly. Eco-friendly lighting tends to be lighting that does not consume electricity, as well as lighting that is designed to consume less electricity when compared to lighting that is not ecologically friendly.
One type of exterior home lighting that does not consume electricity is solar pathway lighting. Solar pathway lights are designed to capture the sun's energy during the day and emit it at night. This type of pathway lighting is designed so that the solar panel component captures the energy during the day. However, in order for these lights to work as designed, the solar panel component of the lighting fixture must be installed where it receives abundant sunlight. Otherwise, with the current technology of solar path lighting, these lights will not work well, if at all, if installed in shaded areas or in climates that are not sunny.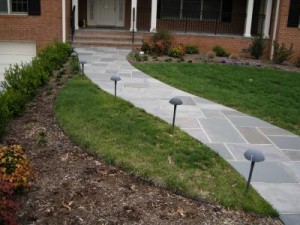 Another option of ecological pathway lighting is the type that uses reduced volts in its design. With this design, that is, with low voltage pathway lighting, a transformer is usually used to reduce the standard home lighting voltage to low voltage. Given that less voltage is used, less electricity is consumed. Consequently, consuming less electricity tends to be beneficial for the natural environment. Additionally, some ecological pathway lighting, whether it is solar or low voltage, also use light emitting diode lamps, which are also energy efficient, and do not contain mercury.
Thus, while abundant choices are available to consumers when shopping for pathway lighting, that is, choices in size, material, and motif, among other options, consumers may also want to consider the energy source the lighting is designed to use to provide the illumination. By doing so, consumers may reduce their electricity bill as well as contribute to the well-being of the natural environment.