Starting a great wood fire on a cold winter evening is one of the season's great thrills for many people, but for others who want to be able to cuddle up in front of a nice roaring blaze all year round an outdoor fireplace is ideal.
Outdoor "living spaces" of all kinds are becoming more commonplace, as people are tending to entertain at home more often than ever these days in an attempt to save money in tight economic times and an outdoor fireplace is a prominent feature of many of these projects.
Having an outdoor fireplace means keeping a good supply of firewood on hand at all times, not just during the winter months. That is where a great quality firewood rack comes in very handy.
A firewood rack's primary purpose is to keep all your firewood neatly stacked together and off the ground where it can become too moist to burn and also attract the attention of all kinds of animals who love a good chomp of wood. In certain areas of the country snakes rather like hanging out in wood piles, not a very appealing thought at all, picking up a slithering intruder rather than a nice log of cedar when getting ready for a BBQ. A good firewood rack will keep critters of all kinds out.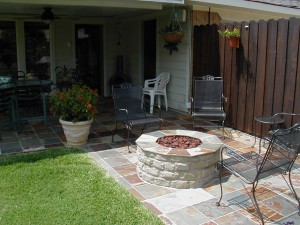 Firewood racks come many different sizes and which you pick will depend of course upon how much storage space you have and how much wood you want to keep on hand at all times. Many firewood dealers will advertise their merchandise by giving you a price per cord. What you should be aware of is that a cord is a significant amount of firewood.
The industry standard for a cord is four feet high by four feet deep by eight feet wide and has a volume of 128 cubic feet. A firewood rack capable of holding all that lumber will measure at least sixteen feet in length so if you do not have that much space available you may have to think a little smaller. Fortunately there are firewood storage racks available that range in size from the very small ones that are designed to double as a log carrier to those that can accommodate anything from 1/8 of a cord to ¾ and everything in between.