When the sun comes out and the summer clothes come on, it's time to bring out the BBQ. Is there anything better than a great BBQ? The flavors are smoky and the meat runs with tasty juice. A great BBQ with friends and family is something that defines summer as the most popular season during the year. But BBQ may not be as easy as it looks. It takes a lot more than just dumping a bunch of meat over hot coals. As any BBQ enthusiast will tell you, there is a definite method to the madness and following some simple grilling rules will ensure you have great food each and every time.
The first step to making sure you have a great grilling experience is taking time to keep your equipment clean. So that means everything from your coal pit, to the grill, to your cooking utensils. So make sure all the grease and leftover residue is well cleaned off of your charcoal BBQ. And once the heat is on, you should close the lid for ten minutes to burn off any excess residue. This will also give the BBQ time to heat up both along the grill and in terms of the inner cooking area. Barbecuing takes patience – you can't rush anything.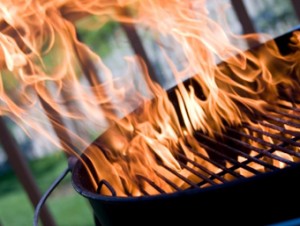 When it comes to your food you have to remember that charcoal grills are rarely forgiving. So that means you have to be prepared beforehand with the marinade and flavoring. Once the food is on the grill, keep it there until a sear forms. If you poke or prod it too soon the cooking process will be interrupted and the juices will be lost. A water bottle at your side will keep the flames from engulfing your food. And always try to have a cool spot on your grilling area where you can keep cooked food warm. If done improperly, a BBQ can be a mess of fire and grease. But when you're on your game, it's like playing a symphony were everything is delicately balanced. It might take a bit of trial and error, but experience is the greatest thing that leads to the best barbecue food.