Sometimes its hard to light the outside of a house, especially when you don't have any power plugs in easy reach, or if the place doesn't already have lighting installed by and electrician.   It's not as if you can hang an extension cord out a window, if ever there was a more obvious invitation for a burglar to break into a place.  If all you want to do is see what you're grilling, perhaps you might consider some string lights to hang on your patio above the grill.
So what are your options?  Well first of all you can get an electrician to do the job, problem here is they don't come cheap.  If you're just looking for a bit of extra light around the place to spruce it up, this is probably off the list.  So what's left?  One of the best is probably outdoor string lights.
Outdoor string lighting for your patio is easy to put up, inexpensive, and can be powered in a number of different ways, including battery, electricity and solar.  This can be done with very little equipment – a ladder, nail-in clips or something else to support the string lights, possibly an extension cord, and the string lights themselves.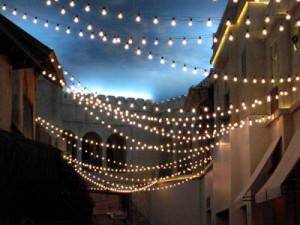 First thing to do is to measure the perimeter of the porch to let you decide how long the outdoor patio string lights need to be.   You also need to determine how many times you wish to string them along (eg: if the lights are attached to the interior of the roof, you may wish to string them up 3 or more times).
You then need to purchase the outdoor string light to suit your décor.  Considerations here include size of bulb, shape, colour of bulb and light, as well as patterns the lights flash in.  This is as well as considering which power source you choose.
If you plan on using an outdoor power outlet, you will have to determine the length of extension cord required.  If solar, consider placement of the solar stake.
Locate and/or install spots to hang the lights around the porch or patio.  There are other guides you can find on how to do this.  Ensure enough slack to reach extension cord, or solar stake.  Use nail in clips as needed.