How long  do I grill a ribeye steak? We get asked this question all the time and while there is no exact set time the answer is actually quite simple. Cooking time will depend on size and thickness of the cut but I follow these general rules whenever I decide to do some outdoor grilling with rib-eye steaks.
Preparation
First of all you have to make sure the steak is thoroughly thawed. You never want to put frozen meat on a grill. Next you want to season them. Rib-eye steaks don't usually need much seasoning other than salt and pepper as they already have a rich flavor but seasoning/marinating is up to you.
Fire Up The Grill
You want to make sure you get your grill up to the desired temperature before you throw the steaks on the grill. You want to grill ribeye steaks over a high temperature but not so hot that you cannot hold your hand about 5 inches over the grill for at least 5 seconds  You will have an easier time of checking the temperature of outdoor gas grills then charcoal but even with charcoal you need to make sure it's hot enough. For charcoal the coals will be glowing brightly in the middle. When you toss the steaks on your grill you want to hear a nice sizzle.
Grill Those Steaks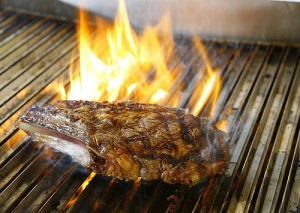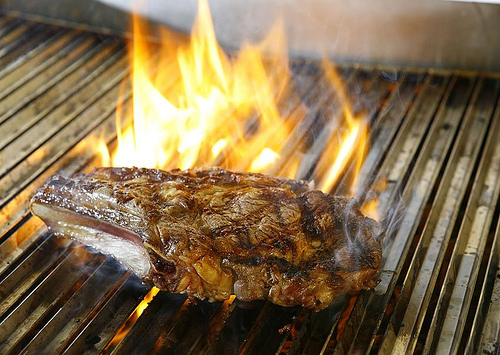 You should grill a ribeye steak for about 3-6 minutes per side. Thinner steaks will be closer to 3 minutes and thicker will be closer to 6 minutes. Don't let the flames get to close to the meat, move them if necessary to another section of the grill.
Get Out Your Meat Thermometer
A lot of people don't have a meat thermometer but it really is a good $10-20 investment because it is the only way to check the internal temperature of your steak. A medium rare steak is around 130-135 degrees, medium is between 140-145 degrees and a well done steak is 165 degrees. One of the great benefits of having a  meat thermometer is that you can tell when to flip the steak (usually around 90-95 degrees) and when to stop cooking it.
Serve And Enjoy
Now it's time to enjoy the fruit of your labor and get to eating. It is usually a good idea though to let the meat rest for a few minutes before serving if you want a juicer steak. If you want to keep your steak warm you should try placing a bowl upside down over the steak.