The main purpose of propane heater is to heat up a specific area. They are convenient to handle and portable enough to move easily. Propane heaters are mostly suitable for garages, warehouse and patios those are not well insulated. Propane heaters mainly utilize pressurized gas and they are self-contained as well. Hence, they do not need to use electricity or gas line additionally. These days' people are using Propane heaters to warm up their home and office space.
Manufacturer companies make propane heater in different types and sizes. British Thermal Units (BTU) mainly rates propane heater. Thus the measurement of energy output is measured in BTU. Here size of the area plays an important role for the consumption of energy. If your area is 100 square feet the output of energy will be 10,000 BTUs. The larger area will take more energy indeed.
One of the popular types of propane gas heater is portable propane heater. People prefer to use this for its convenient features. This type of propane heaters are made with wheels, that makes it easy to move around. However they also come with a tank of propane gas which is convenient as well. You just will be needed to attach the heater with the tank and light up whenever you want to use it. Electricity or vent is not necessary to use.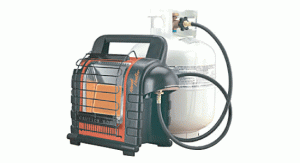 Usually there are two types of portable propane heater that can be found in the market, Tall and Small. The tall type of portable heater is commonly known as Torchiere and it is suitable for parties, patios, towns or decks. Torchiere is usually covered with shield. On the other hand, small type portable heater is as like as small box and handy to move. This type of heater is also known as convection heater or radiant heater and they are suitable for workshops, garages, shades etc.
However, if you are interested to set up the propane heater permanently you will be needed to go with another type. They can be installed easily on the wall, ceiling or floor. Some of them featured with fans to force air and disperse warm air. An electrical outlet is needed to run on the fan. These are pretty large in size and need a vent. Apart from that you will be needed to ensure proper supply of oxygen to keep the service uninterrupted. In fact, propane gas needs oxygen to burn. Therefore, it is important to keep the heater in a suitable place where oxygen is available.
Usually propane heaters are made with a metal tank and the propane is stored in here. But the size of tank depends on the heater and its capacity. Larger size of heater comes with large tank. However, the tanks made with portable option are smaller in size and can be moved easily to refill in the nearest gas station.