When it comes to your outdoor patio, there are a variety of design ideas and concepts you could implement. One of these is the notion of converting that outdoor space into some sort of outdoor room. Outdoor rooms have quickly become great ways for homeowners to get more usability and function from their backyard spaces. There are a variety of ways to do this, as well, we'll be discussing just one main type, the outdoor kitchen.
There is really nothing inherently different about an outdoor kitchen versus an indoor one. The main distinction is that in your outdoor space, cabinets, appliances, counters and such all need to be waterproof. The reason is clear, it will be exposed to the elements. However, there are also plans that you can make that will more or less use your covered patio as a means of providing a roof to that outdoor kitchen area.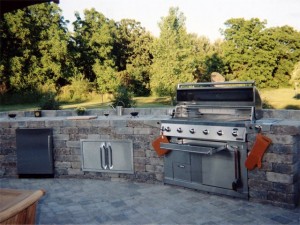 With this trend in outdoor kitchen designs has also come a whole array of features that can make your patio rival any indoor kitchen remodeling or even a commercial kitchen. In fact, many of those same features you would expect about a commercial quality kitchen can be found to work quite well outdoors. Some of these materials, like the stainless steel mentioned, are perfect fits. You can also use wood, but you'll have to ensure that they are good fits for the outdoor elements. Cedar and redwood make great choices here.
As far as the counter-tops are concerned, you can think about brick or stone. Granite makes just as elegant a counter outdoors as it does inside. With all of these features, you still need to think about the flooring. Something that is not too slippery when wet is ideal. If you are knowledgeable about laying pavers, you can do this yourself. Otherwise, a more porous tile or flagstone can work nicely, too.
Your outdoor kitchen plans should incorporate all of the features that you plan on using in a patio space. This should be a project that will greatly help you enjoy your home's outdoors much more effectively. So, whether you are an entertainer or prefer lounging outdoors, outdoor kitchen ideas will be a great fit for your lifestyle.