Homeowners can quickly rack up a large bill when buying outdoor decor for their home. Decor like light fixtures, gazebos, and furniture can be expensive if you buy good quality. It makes sense to locate products that serve dual purposes to eliminate buying multiple items. For example, a lighted patio umbrella provides protection from the sun and night-time illumination. These types of products are all over the place if you know where to look. One of my favorites is the propane fire pit. Fire pits like these do-away with real wood logs and replace it with clean burning liquid propane.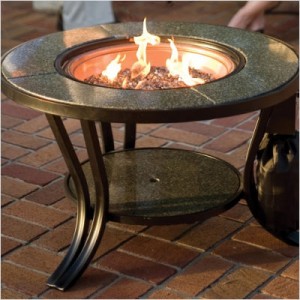 Propane fire pits start up in an instant and require no cleanup afterward. At night, friends and family can huddle around the pit for warmth while enjoying the yellow glow of the fire. Many of these pits are made of high quality materials and are quite beautiful. The Patio Pleasures Propane Fire Pit is one great fire pit to consider in your hunt. The exterior of the outdoor gas fire pit is lined with artificial gray slate for a decorative look. It's compact enough to fit on a small patio but big enough to accommodate several people at a time.
The propane burner is easy to hook up to a gas tank. A connection kit is provided to ease this process. The burner can produce up to 40,000 BTU at its maximum level. The entire 24 inch bowl diameter can be filled with the included lava rock for decoration. Other add-ons like fake logs or glass can be purchased separately. The gas travels through the rock to burn at the surface, generating flames several inches in height. The flame can be controlled with precision by adjusting the valve. Wood burning fire pits simply don't have this ability. Whether you want to create an intimate setting or just keep warm, this fire pit from Patio Pleasures can get the job done.