When updating or creating a patio area, investigate patio shade and flooring options. Basic patios are constructed with either poured cement or pavers. One trend in designing a patio area is to use patio tiles for the flooring material. Outdoor flooring tiles come in synthetic, ceramic and marble. They can also be found in natural stone. Before beginning the project, a homeowner might want to determine if this is a do-it-yourself project or something that should be contracted out. Installing a patio involves ground prep work, choosing the tile that can handle the elements, laying the tile, mortaring, grouting and cleaning up.
Most patios can be found in a sunny location on the property, close to the home. Depending on the location, it may be necessary to consider patio shade. Some patios will get morning sun and may need shade that will filter the light, while others will get afternoon sun and will require something to block more of the sun's harmful UV rays. If it is a closed in patio, traditional shades maybe be an option. The shades will need to be able to withstand some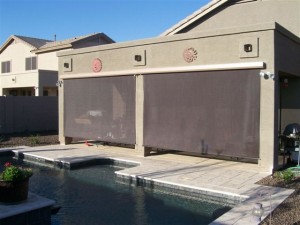 weather elements if hung on a screened window. If the patio is a three season porch area, durability may not be a concern. Remote controlled patio shades can be installed as well in either area. If the area is not enclosed, installing a retractable awning will accommodate the feeling of being outdoors while protecting patio goers from the sun. Some patio shades are free standing and provide flexibility in use, allowing the homeowner to move the shade as needed, following the sun throughout the day.
Choosing the right flooring option and patio shade is imperative to creating the ideal outdoor patio space. Outdoor tiles can create a rustic feel or something more upscale and when paired with outdoor furniture and patio shades, the space can be the perfect entertainment area for a homeowner and guests or simply a secret sanctuary to relax, read and reflect on the day.