Come summertime, nothing seems more appropriate than to gather the family around the barbecue for some tasty home cooking. If it's your turn this year to host the event, you may be a little overwhelmed in terms of where to serve the food and what to serve it on, let alone what to actually cook. There is much more to planning such an event than setting a few patio chairs along the circumference of a table and calling it a day. For instance, you may unknowingly subject your visitors to blistering heat if you don't position the table correctly so that it is out of the suns way. If the patio table happens to be situated too close to your pool, guests might complain that the kids are splashing water on the food and whatnot. If you take the time to organize yourself and consider each aspect of the event, it is unlikely that you'll disappoint come the day of the event.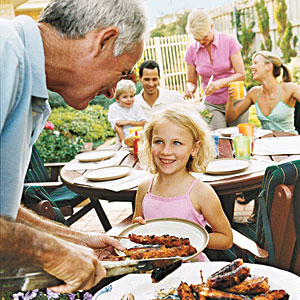 The first order of business when planning a barbecue is to check the state of your outdoor space. Does the lawn need to be mowed or do some overgrown shrubs need to be brought under control? How about the pool? Could it use a quick cleaning? The most important part of this process is verifying the condition of your patio furniture. It may have been allowed to sit in the rain during the winter, so chances are good that it has accumulated quite a bit of dirt and grime. Give it a good cleaning with your garden hose. If you see that some rust has begun to develop, a quick touch up to the paint job may be in order. Don't forget the seat cushions! They might benefit from a ride in the washing machine or a quick blast with a pressure washer. Check the manufacturer's directions. Finally, check to make sure the umbrella is functioning as needed and give it a good cleaning.
Now that the outdoor space is ready, you need to assemble supplies to serve the food and beverages. A cooler is a must it to keep the drinks at an optimal temperature, so lug yours out of the basement or purchase a new one. While some might like to serve their guests with conventional tableware, we strongly recommend disposable dishes and cups. These make for very quick cleanup and won't cost you a fortune if dropped or otherwise abused. You can even use plastic or paper plate holders to provide any flimsy plates some added support. Walmart plate holders (or other holders from discount retailers) should work just fine. If you visit your local party supply store, you should be able to find a diverse selection of plates, utensils and napkins to choose from.
The final step in the process is to check where your cooking hardware stands. If you're using a charcoal grill, you might need to stock up on some briquettes in preparation for the event. If you have a gas grill, your propane tank might need a refill. In both of these cases, a good washing of the cooking grate with detergent is in order. Fire up the grill before the event to ensure you don't have any unwanted mishaps on game day.