If you are trying to decide on the details of your outdoor kitchen, you might just find yourself suffering from information overload. There is so much information out there about the different kinds of cabinet construction, different grills, refrigerators, doors, countertops…..it goes on and on. The best way to deal with these issues is to approach it in an organized way.
The first thing you should do is make a sort of wish list for your outdoor kitchen plan. What appliances do you want? What kind of counter top would you prefer? Do you want the outdoor kitchen to be an extension of your home and share the look and feel of the home's construction style, or something that is out there on its own? The things you "wish" for may or may not end up in the final plan, but at least you have a starting point. The realities of space, electrical and plumbing concerns, and budget will help you narrow down your wish list into a final plan for the outdoor kitchen.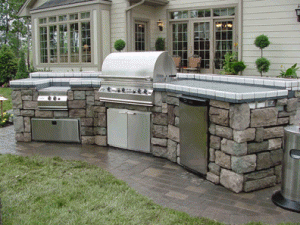 Let's take a closer look at that wish list and then compare it to our budget. As far as outdoor appliances go, there are as many different things for  outdoor kitchens as there are for an indoor kitchen. And within those choices are a very wide range of price points. If you want stainless steel, then you want 304 stainless steel in your outdoor appliances because this kind of stainless will not rust. Obviously that is an important feature in outdoor appliances. Do you want a rotisserie on your grill, or is that unimportant? How about lights inside the grill? How about a smoker burner in the grill? As you can see there are a lot of questions that go into the simple one of "what kind of grill do I want?". Built in grills range in price from several hundred dollars up to several thousand dollars. And that type of wide price range is true of all the other appliances too.
When it comes to outdoor refrigeration, many people get sticker shock very quickly. This is because a true outdoor rated refrigerator, meaning one that is UL approved for outdoor use and warranted by the manufacturer for outdoor use will cost at least $1200 and could cost as much as $4000, depending on brand and style. And that is just one appliance.
As you can see, there are a lot of things to decide when it comes to planning your outdoor kitchen. Costs can quickly get out of control if you do not plan ahead and understand what you want and what you can afford. A well planned and thought out outdoor kitchen can add tremendous value to your home, and add a huge amount of enjoyment at the same time. But, if you don't handle the process properly you can quickly find yourself overwhelmed and over budget.