A question that I see posed often is should you leave the shell on when grilling shrimp?  This usually comes up when a new grill user reaches into to their fresh shrimp only to realize that the shell is still on. Not to worry the answer is simple. Yes you should leave the shell on. Leaving on the shell prevents drying and leaves some juices in the shellfish. Keep in mind though that the shell should have a slit in it to allow the seasonings or marinades to seep into the shrimp. Most shrimp already have a slit but check anyways especially if it's small.
Yes shrimp are a delicious, tasty meal for outdoor grilling but be aware that shrimp cooks fast so don't leave it on the grill for too long! Nothing is worse than dried out blackened shrimp. About 2 minutes on each side should be enough for average sized shrimp over a high heat. Shrimp is done when it turns pink.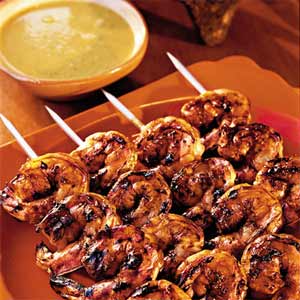 You want to choose the right topping or sauce for your grilled shrimp. Marinades are an excellent choice for grilled shrimp if you choose the right delicious shrimp recipes but don't put on too much. A classic topping for grilled shrimp is melted butter with some old bay seasoning or garlic powder and salt. Barbecue sauce is another great sauce for grilled shrimp but be sure to add it to your shrimp just before they are done cooking. You don't want burned BBQ sauce all over your shrimp.