Sometimes, when it comes to home decor or design, we make it much more complicated than it needs to be. This seems to hold true whether we are talking about indoor or exterior designs or renovations. You might be planning a new remodel for your patio space and you want to make it simple, yet nice looking, maybe even elegant. Is this possible? Absolutely! All you really need to keep in mind is what type of patio use you have in mind. In most cases, homeowners have some grandiose patio ideas but really have no need for those.
You should first determine how you plan on using your patio space. If you plan on being more of an entertainer for friends, family or other guests, then you might want to spend a bit more time coming up with a type of patio structure that will be conducive to mingling, standing, eating, and actively moving people. You may also have the need for a more formal outdoor dining area. That almost sounds like an oxymoron "outdoor" and "formal", but it's true. Just because we are discussing various patio cover ideas and the like, it doesn't mean we have to forgo quality and elegant looks. In fact, some of the nicest covered patio ideas are really more like outdoor rooms.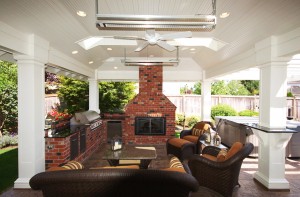 The outdoor room concept is a trend that has been growing in popularity recently. It is basically the concept of using an outdoor space, like a patio, as any other indoor room in your home. It can really open up the possibilities and flow of your usable square footage. This is especially true in those perfect months where you can have the windows or doors open and you get the perfect mix of sun, breeze and cool temperatures. Depending on what part of the country you live in, it doesn't last forever so take advantage of it! This kind of outdoor room concept for a patio makes great sense.
Again, you need not sacrifice any style just because we are talking about a patio space. Some of the more 'basic' or simple patio covers make for the most handsome and elegant design backdrops. Take, for example, the pergola. This is probably the most well known of the wooden patio structures. It is composed of essentially four posts and a lattice roof. Some styles call for the pergola to be attached to the home, thus, you would have only two posts. But, the free-standing pergola is a great way to achieve an outdoor room effect.
You can accessorize the pergola with any number of patio lighting features and accessories. Beneath the pergola itself, you could have very comfortable and elegant patio furniture. The patterns and fabrics available now are like what you might expect in your fine living room furniture. There are rugs made specifically for the outdoors, as well as lamps and heaters. You can even enjoy a nice outdoor fireplace while you rest in your lounge chair beneath the stars. For the money, you can't beat the outdoor room effect provided by the simple covered patio.