Want to install a hassle-free lightning for your yard?  Well, the answer to your problem might be solar lights. They're safe, easy to install, environment friendly and maintenance free.
Are you always worried about the complications on putting lightning in outside your house?  Well, here's one brilliant solution—solar yard lights. Don't cringe at the expense. They're quite expensive, that's true. But you don't have to put in wiring and they can produce light as long they can get direct sunlight. So, solar garden lighting can be well worth the cost.
Solar yard lights efficiently harness sunlight to light outside your house without the help of an electrician. These can be used to illuminate your garden or light up perfidious pathways or stairs outside. They're easy to install and very safe to use.
So, how do solar yard lights work?
It's actually very simple. The solar panels capture and store sunlight during the day to produce light during the night. What's interesting is that most of them have sensors that allow them to produce light during the night and automatically turn it off by day.
If you're wondering on how is this possible, let me tell you the basic components of solar yard lights.
1.    Solar cell – this component  takes charge of light collection during the day.
2.    Tiny controller board – as the name implies, it's the controller. So, it tells the battery when to turn on and off.
3.    Photoresistor – is a sensor that detects darkness. So, they automatically turn on at night and shut down on daytime.
4.    LED light source – they're just like light bulbs because they're the one emitting light when necessary. However, compared to ordinary light bulbs, LED lights are safer, they don't get very hot and more importantly, and they don't burn out.
5.    Nicad battery (usually AA)-just like how an ordinary battery function, this battery store up solar energy so it can power on the LED lights.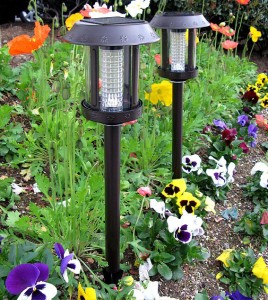 See, it's pretty uncomplicated. The solar cells collect the light; store it in the battery, and the photoresistor send the signal to the controller that it's already dark, so the controller board tells the battery to power up the LED light. They are all put together and presto, you have a functioning solar yard lights.
They can be put in different cases to give way to several designs. So finally, we'll have different types of solar yard lights to chose from when designing our gardens and putting illumination outdoors.
Another factor that we should all consider is that when we use solar yard lights, we are in a way helping in the conservation of our environment. Energy saving practices is so necessary for us to live in a sustainable environment.  We are all feeling the effects of global warming, and I am happy to tell you that using solar energy sources can contribute in lessening the emission of greenhouse gasses which are the root cause of global warming.
You might be a bit hesitant in using solar yard lights because of the expense necessary to install them. The good news is, they're maintenance free and they last for many years. So, why don't you start being practical and start using solar energy sources? Where is the best way to start? Use solar yard lights.