Investing in the improvement of a home's exterior is proven to bring a high return as well as create a more welcoming setting for both future home buyers as well as arriving guests. Of course, as with any home improvements, there is always the chance of over improving. An over improvement means that the return is not likely to equal or come close to equaling the cost of the investment. After landscaping and painting and even paver installment, one very budget friendly way to improve a home's exterior is with proper lighting. Choosing the right outdoor sconce, outdoor wall sconces and other outdoor fixtures is a smart investment as well as a cost effective way to enhance the newly improved features of a home's exterior.
When shopping for an outdoor sconce for your home, decide first on the style that will fit in cohesively with the style of the home. While it is possible to blend some types of styles such as a transitional outdoor sconce on either a traditional or a more contemporary home, it's also possible to clash styles and wind up with what looks out of place rather than feature enhancing. The materials and design of the exterior sconces should be in line with those of the home's exterior.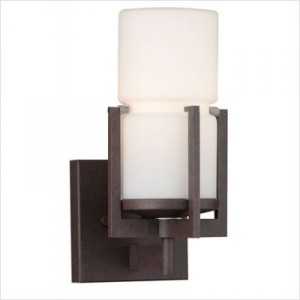 Size up the area on which the outdoor sconce will be mounted. If there will be one on either side of a double door entry, don't be afraid to size up rather than down. A large entryway demands a larger sized fixture. On the other hand, don't go too large for a smaller entryway because not only with the outdoor sconce overpower the space, the light itself may overpower approaching guests and cause them to squint!
Speaking of squinting, be sure to mount the sconce above the head and not at eye level. About 7' high is appropriate however, be sure to check with manufacturer's instructions as each light is different and each bulb placement and wattage is also different.
Be sure to only use exterior fixtures for your outdoor sconce. Do not attempt to mount an interior fixture outside. This is common sense of course because electricity does not like weather that includes rain unless it is waterproof and made to withstand the elements. Again, check the manufacturer's instructions before mounting any fixtures to the exterior of your home.
Some common areas that an outdoor sconce may be hung is at the front entrance of a home as well as on either side of a garage door, at the back entrance of the home and at any side entrances. For the best selection and best pricing on outdoor sconces, be sure to start your shopping online.