If you think that thermometers are only used in the hospital, then you better think again. The truth is they are also well-recognized in the kitchen since they help to ensure that every meal is well-done and perfectly cooked. Due to their invaluable use, different oven thermometer types have now emerged. They are designed in varying specifications in order to meet the needs of every consumer. Since they are now sold in a vast array of thermometer collection, it is of the essence that you set buying parameters that will point you to the right direction.
Before anything else, you have to become acquainted with the different types of kitchen thermometers. This will allow you to easily weigh their pros and cons. Remember that the type of oven thermometer that you require will depend on a number of factors. This includes their reading capability, placement, features, accuracy, and ease of use.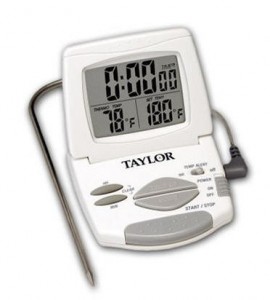 Some of the popular varieties that you have to look into are the following:
•    Bi-metal dial safe thermometers – This type of food thermometer is capable of producing reading in one to two minutes. They are typically placed two to two and half inch deep within the thickest part of the food being measured. The best thing about them is the fact that you can leave them on the food even while cooking. However, you should be aware that they are not ideal for measuring the temperature of thin food and they might provide false readings due to the excessive heat conduction on their metal stem.
•    Fork thermometer – As the name implies, this food thermometer resembles like a fork and provides reading in as fast as two to ten seconds. In addition, they are perfect for taking temperature readings of most foods. However, they should not be left on the food while cooking since they are not designed as such. They are best used when taking measurements of grilled foods.
•    Digital instant read thermometers – The instant read cooking thermometer offers fast reading of up to 10 seconds. They are readily available in many retail stores and can also be acquired online. The digital oven thermometer variety is one of the innovations that have been introduced in the market. They are more efficient and very convenient to use.
•    Wireless thermometers – This thermometer normally feature reading monitors which are placed outside the oven. They do not have messy wiring which make them even more visually appealing. They are operated with the use of batteries and can send signal for up to several feet.
Regardless of whatever type you choose (whether battery powered or electric cooking thermometers), make sure that you pay careful attention to your needs in order to end up with the right one for your home and family. That being said, it is vital that you take time to look into different oven thermometer types in order to help you evaluate your options!