Many new homeowners seem comfortable with the notion of tackling do-it-yourself projects, especially after having spent several hundred thousand dollars on their new home. Some set reasonable goals, such as replacing the tile backsplash in the kitchen or revamping the lighting fixtures in the master bathroom. Others gravitate towards more ambitious projects, such as repaving their concrete driveway or replacing roofing tiles on the garage. Most would agree that tree removal falls into the latter category, even though an initial assessment of such a project seems to indicate otherwise. More often that not, people fail to consider the intricacies of properly removing a tree. You can't simply take a saw to the a tree's limbs and watch them come down. You may cause damage to an adjoining property or possibly injure someone. There are also the unforeseen obstacles to consider. What if you come across a pipe while removing the tree's roots? The wrong course of action could end up costing you thousands of dollars, money which could have been appropriated to secure the services of a professional tree removal contractor.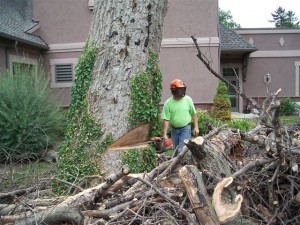 Before any work begins, a lengthy planning phase needs to get underway. You need to identify what tree you want to cut down, how you get access to the limbs of the said tree, how you will lower the limbs, and finally how you intend to dispose of them. Then there's the issue of the tree trunk, stump, and finally the roots. How will you go about cutting these items and disposing of them? When you have all these questions answered, you should be ready to put some dollar figures together. More often than not, you will have to factor in the cost of a trash container rental and a wood chipper. Other supplies might include ladders and ropes. You will probably need to recruit the help of some friends to get the job done, especially if the tree is reasonably sized. As such, factor in the cost of labor (which in the case would loosely translate to the cost of some food and beverages).
When you compute all these costs, you will probably arrive at figure that isn't necessarily pleasing to the wallet. The truth of the matter is that you can't genuinely appreciate all the facets to the process until you sit down and break the project apart. If you've come to your senses and decided that going about this yourself is unwise, go get some quotes from reputable tree removal contractors in your area. While the cost of tree removal which they quote you may be a bit higher than what it would've cost to get the project done yourself, you are ultimately avoiding a major headache. Fallen tree removal and other unique circumstances may further tack onto the price, but it overall it is still well worth it. There are far too many liabilities involved in going at it alone, especially if one of your friends becomes injured or you manage to damage a neighbor's property or possessions while going about the process.