Many people around the world just won't use any type of grill but a charcoal grill. Some of the best charcoal grills are really affordable and can help you prepare great food. Charcoal grills can provide a higher heat than standard gas grills, and many people prefer the flavor. The smoking charcoal can add flavors to your food than many grill enthusiasts couldn't live without. One of the only downfalls for charcoal grills is they can potentially be less safe than a gas grill. If you don't set your grill up properly you can run into some issues. Some apartment complexes ban charcoal grills because too many careless people tried to use them. However, after mastering the art of grilling on a charcoal grill — you will be able to make some excellent food. For this list I tried to find the best charcoal grills that are affordable and easy to use.
Best Charcoal Grills
Char-Broil American Gourmet Offset Smoker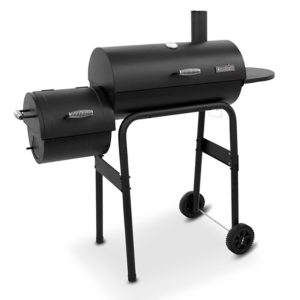 I would say Char-Broil is one of the best grill brands you can buy. They make a variety of excellent grills and grilling accessories. This charcoal grill by Char-Broil is an excellent piece of equipment and is great for beginners or your seasoned grill chef. One of the most notable features is the offset smoker. This is great for getting to learn the wonders of smoking your food, or if you don't need to prepare a lot.
You can get this charcoal grill in a few different sizes and variations to suit your needs. This is one of the best charcoal grills you can get under $100. The standard size comes with a 290 square inch cooking surface, and a 140 square inch offset smoker. This grill is also easy to clean with an adjustable built-in damper.
Rating:
Value:
Weber Smokey Joe Portable Charcoal Grill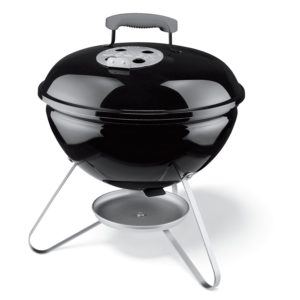 If you are looking to spend as little as possible but still want an excellent charcoal grill, check out this great option by Weber. Weber is another one of the best charcoal grill brands you can buy, as well as gas grills too. This is a portable charcoal grill so you can take it with you camping, tailgating, or other events where you want to cookout. The cooking surface measures about 14″ in diameter and is triple nickel-plated.
This is a great smaller charcoal grill that is very cheap. I would recommend this to anyone who needs something for a smaller home or apartment. Or if you specifically need a great portable charcoal grill to take with you to your cookouts. The glass handle is reinforced with nylon handles for easy lid removal. There is a porcelain enameled coating to prevent rust and fading keeping your grill looking new.
Rating:
Value:
Char-Griller Pro Deluxe Charcoal Grill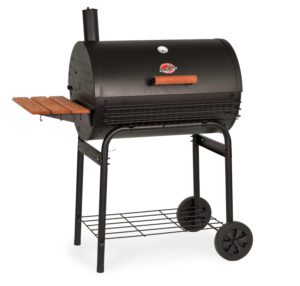 Char-Griller is another excellent manufacturer of grills and grill accessories. They have a good variety of great products designed to last. This deluxe charcoal grill boasts a 580 square inch cooking space, as well as a 250 square inch warming rack. This is a very solid grill and has a lot of space to cook a lot of food if needed. This is one of the best charcoal grills I have used and it will work great for anyone in need of a large cart charcoal grill.
This grill comes complete with a heat gauge, wood shelf, condiment basket, and utensil hooks. It comes with cast iron cooking grates and has four sections you can access the coal from. If you are trying to upgrade your charcoal grill or are looking to purchase your first one, this is a great option.
Rating:
Value: