Making food on your grill can be a lot of fun and you can make some excellent tasting food. The only thing that ruins a good grill out is a nasty grill. I have been invited over to a friends house to cook on his grill and I had to spend about an hour cleaning it before I felt comfortable cooking on it. There are many ways you can maintain your grill and having a great grill brush to clean with. The best grill brush for you will depend in your grill. A lot of grill sets come with a brush or you can purchase one by itself. If you do a lot of grilling you might find it handy to have a few brushes or tools around for cleaning your grill. Most grill brushes are made out of stainless steel and should last you a while if properly kept. Getting the right grill set can give you all the tools you need to prepare your favorite foods on the grill. Things like spatulas, skewers, and tongs can really help you prepare your meal on the grill.
Top 5 Best Grill Brush and Grill Sets
This is the best grill brush I have used for cleaning my grill. Its more like a 3 in 1 brush with different brushing options. The brush has an 18″ handle which is a great length, too short or long can get annoying real quick. This is recommended for all grill types to keep your grill looking shiny and new.
If you already have a nice grill set and want to get yourself the best grill brush to complete it, I would definitely check this brush by Kona out. You can get it for a great price and it should last you a long time.
Rating:
Value: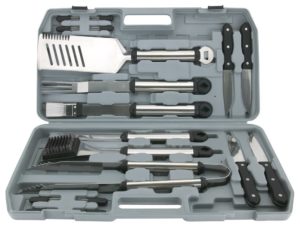 If you don't have a lot of cooking utensils to use for your grill you may want to consider getting a grill set. This set by Mr. Bar-B-Q comes with 18 pieces to help you prepare and eat your food. This set comes with a variety of tools like a spatula, tongs, barbecue fork, and a scraper. It also has skewers and corn cob holds for your fancy corn eaters.
This set comes complete with a case for around $25 and has everything you need to get started on grilling. The grill brush and scraper it comes with works very well but can always be upgraded later. The pieces are made with stainless steel and stainless or plastic handles.
Rating:
Value: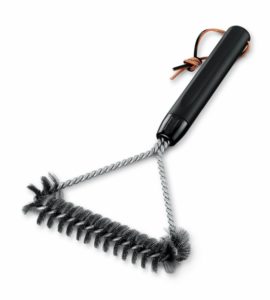 This is the best grill brush under $10 that I have used. This brush is 3 sided with stainless steel bristles that are pretty thick. This brush is about 12 inches and has a comfortable handle. This is great if you already have the grilling tools you need and just need a quality brush.
This is one of the cheaper options but it works very well. This brush should last you a long time and is one of my favorites for getting into small spaces. This brush is very versatile and very cheap, check it out for less than $10.
Rating:
Value: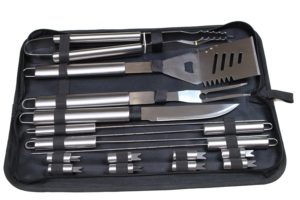 This is an excellent grill set made by BBQ Mate. The 16 piece set comes with just about everything you need, except a brush. If you have an excellent grill brush and you just need some grilling tools, this is an excellent option. The stainless steel set has a variety of cooking utensils that can help prepare any meal on the grill.
This set comes with a canvas carrying bag that will hold all of your tools in place. I really like the design and feel of the tools in this grill set. If you are looking for an excellent stainless steel grill set, I would recommend checking this one out.
Rating:
Value:
True Blue BBQ Grill Brush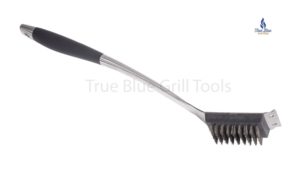 I really like this grill brush by True Blue. It has a very comfortable design and works great for cleaning your grill. The brush is made with stainless steel and even has replaceable heads so you can make this tool last even longer. I like the long handle on this brush and the angle the brush head come off.
This is a little more expensive than the average grill brush but it is one of the best grill brushes I have ever used. It works great with any type of grill and should last you a very long time especially if you replace the cleaning heads every now and then.
Rating:
Value: