There are two things all purchasers need to know before selecting the wooden shutters for their home. The first of which is being able to choose the best wood (which depends on the location of the shutters) for your shutters and the second is being able to tell if the shutters are property constructed to give years of worry free service. After viewing just a few shutters, you will develop the confidence that you need to make a wise choice.
Investing in these shutters is like buying a piece of furniture – you get what you pay for. The quality and beauty of the wood will last a long time if you buy excellent shutters.
Which wood is best?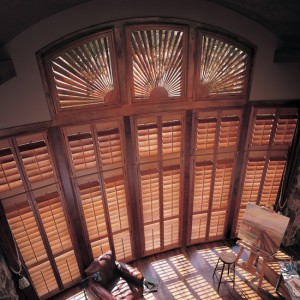 For interior shutters, the best wood is Basswood, a hardwood that is renewable and grows along the eastern coast from Quebec, Canada to Delaware. The grain in this wood is very straight and has very uniform texture. It does not warp and it is lightweight and strong. Oak and maple are both very heavy woods that create a lot of stress on window frames.
Cedar is the choice for exterior wood, especially red western cedar. This is very durable and resistant to decay and insects. It holds paint and stains well and does not warp.
Purchasing wooden shutters from a quality manufacturer is the best guarantee for good results. The shutter should have a well sanded, smooth surface with quality paint or stain. All joins should be glued and have dowels to insure a long-lasting product. Finger joints are two pieces of wood are joined together to get the necessary length. Finger joints will always show and should be avoided. If this is a louvered design, the louvers should be self-tensioning so they will stay in the position desired.
With care taken to choose the right wood and manufacture, this investment in the wooden shutters will pay for itself. They will last a long time and give enjoyment to the homeowner.
This article on purchasing wooden shutters was written by Jim Bob from Better Exterior Shutters.