If you are looking for new cushions for your patio furniture then you cannot go wrong, at least as far as the fabric is concerned, if you choose Sunbrella cushions. Sunbrella fabric is specially made to withstand tough outdoor conditions. No matter what sort of weather your patio cushions encounter they have inbuilt protection.
1. Resistant to Fading
The acrylic fabric is dyed while the yarn is still in liquid form and so it is locked into the fabric in a way that prevents it fading unlike fabric which is printed or dyed in the normal way after production. This means that you can leave your outdoor cushions out in the sun without worry about the beautiful colors losing their vibrancy.
2. Water Resistant
Sunbrella cushions are treated with a special coating, which makes them resistant to water. You will see that if it rains, droplets form on the fabric rather than soaking into it. This helps them resist mildew and staining too, although you should always spot clean any stains as soon as possible as mildew can grow on dried on food stains rather than on the fabric itself.
3. Easy to Clean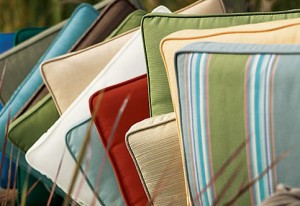 These cushions can simply be hosed down with a garden hose to get rid of any surface dirt. If you do this once a month, it should keep your patio cushions in relatively good condition. If your cushions need a more thorough clean, then the covers can usually be machine washed on a low temperature setting and dried in the fresh air or the cushions can be cleaned outside using lukewarm soapy water and a soft bristle brush, then rinsed and left to dry naturally.
4. Great Colors
Last but not least Sunbrella fabrics are available in many attractive colors and designs, which you will find for sale as ready made cushions and also from custom patio cushion companies. You should be able to find a fabric to enhance your patio and garden with no trouble at all.