My grandmother used to tell me that if I wanted something bad enough I would find a way to get it. I was a child and this normally entailed some toy or comic that I wanted right then. The same rule applies to the desire to use the BBQ all year.
Whether you have a small cheap and cheerful BBQ or a $5K all singing all dancing model you almost certainly wish you could enjoy the taste of your very own cooking all year round. If you are willing to do some planning and some work then you can enjoy your BBQ all year round.
Everyone knows that cooking your meat in the oven just isn't the same as standing over it controlling every line that is seared into it, adding salt,pepper and flavors as you see the meat is ready for them. So the work you put in now will be paying you back in flavor all year round.
Location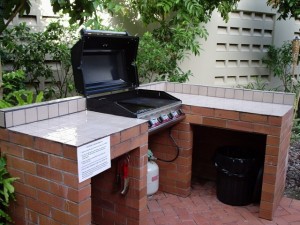 Just like when you are buying a house where you locate your BBQ is vital. You need to be able to get to it all year round, if your garden usually gets a few feet of snow then you need to put up some kind of cover so your baby will always be safe and dry.
Lighting
You won't be working with the sun on your back all the time so you need to think about how you are going to see your work area. Outdoor deck lights can give you enough light to make sure that you have the perfect amount of brown on that sirloin.
Solar powered lights may be great for part of the year but if you really want to bbq all year round then you will have to install something that will work when it has been snowing for days.
Make It Tough
Not the meat! I mean the BBQ itself, if you are buying your BBQ from the local big box store then the chances are that it won't be tough enough to last outside through a rough winter or two.
So if you are serious about this you need to make sure that you have a robust BBQ, I won't mention any specific brands but if it looks like it was made from a old tin can then sprayed black it probably isn't what you need.
Remember a BBQ is for life not just for summer